H264 8 channel CCTV Car HD Black Box DVR Recorder 4G GPS Tracking Truck Bus Mobile DVR
Product Detail
Product Tags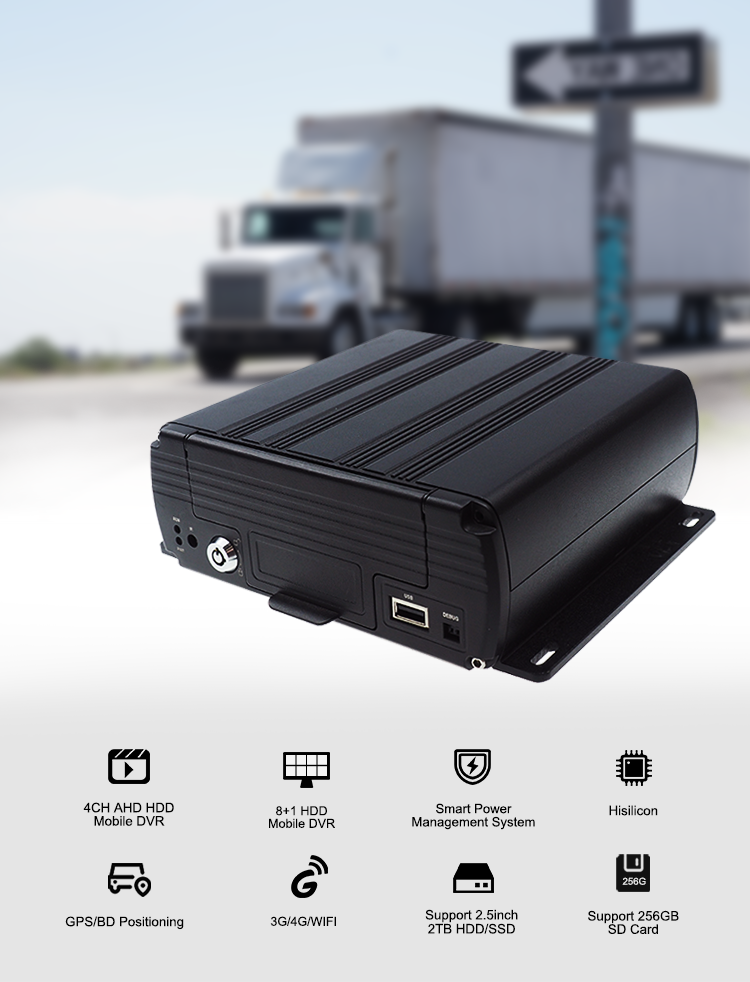 Special file management system to encrypt and protect the data
Proprietary technology to detect the bad track of the hard drive which can make sure the continuity of video and long service life of the hard drive
Built-in ultracapacitor, avoid data loss and sd card damage caused by sudden outage
Support 2.5 inch HDD/SSD, maximum 2TB
Support SD card storage, maximum 256GB
Support 3G/4G transmission, LTE/HSUPA/HSDPA/WCDMA/EVDO/TD-SCDMA
Support GPS/BD optional, high sensitivity, fast positioning
Support wireless download by WiFi, 802.11b/g/n, 2.4GHz
The 8 channel CCTV car HD black box is a powerful tool that provides drivers with a comprehensive view of their surroundings, as well as an added layer of security and safety for passengers. Here are some of the key advantages of this system:
Multiple Camera Inputs: The system supports up to eight camera inputs, allowing drivers to view their surroundings from multiple angles. This helps to eliminate blind spots and improves overall safety.
High-Quality Video: The cameras are capable of capturing high-quality video footage, which can be useful in the event of an accident or incident. The footage can also be used for training purposes or to improve overall fleet efficiency.
Mobile DVR Recording: The mobile DVR allows for the recording of all camera inputs, providing drivers with a complete record of their surroundings. This can be useful for monitoring driver behavior, improving overall safety, and resolving disputes.
GPS Tracking: The system includes GPS tracking, which provides drivers with real-time location data. This can be useful for monitoring driver behavior, improving overall fleet efficiency, and providing passengers with accurate arrival times.
Infrared Night Vision: The cameras have infrared night vision capabilities, allowing drivers to see in low light conditions. This is particularly useful for drivers who need to operate their vehicles in the early morning or late at night.
Panic Button: The system includes a panic button, which allows drivers to quickly alert authorities in the event of an emergency. This helps to improve overall passenger safety and provides drivers with added peace of mind.
Cloud-Based Monitoring: The system can be monitored remotely through a cloud-based platform, providing fleet managers with real-time access to the video footage and location data of their vehicles. This can be particularly useful for companies that operate a large fleet of vehicles and need to track their location and condition in real-time.
Tamper-Proof: The black box is tamper-proof, ensuring that the recorded footage cannot be altered or deleted. This provides an added layer of security and ensures that the recorded footage is reliable and accurate.
Technical parameter:

Item

Device parameter

Performance

System

Main processor

Hi3520DV300

Operating system

Embedded Linux OS

Operating language

Chinese/English

Operating interface

GUI, support mouse

Password security

User password/Admin password

Audio

&

Video

 

Video standard

PAL/NTSC

Video compression

H.264

Image resolution

1080N/720P/960H/D1/CIF

Playback quality

1080N/720P/960H/D1/CIF

Compound mode

A variety of ways

Decoding ability

1ch 1080N real time

Recording quality

Class 1-6 optional

Image display

Single/QUAD display optional

Audio Compression

G.726

Audio recording

Audio & Video synchronized recording

Recording & Playback

Recording mode

Manual/Alarm

Video bit rate

Full frame 4096Mbps,6 classes image quality optional

Audio bit rate

8KB/s

Storage media

SD card + HDD/SSD storage

Video inquiry

Inquiry by channel/Recording type

Local playback

Playback by file

Firmware upgrading

Upgrading mode

Manual/Automatical/Remote/Emergency Recovery

Upgrading method

USB disk/Wireless network/SD card

Interface

AV input

8ch aviation interface

AV output

1ch VGA video output, 1ch aviation AV output

Alarm input

4 digital inputs (4 Positive/Negative trigger)

HDD/SSD

1 HDD/SSD (up to 2TB, support hot plug/unplug)

SD card

1 SDXC High speed card (up to 256GB)

USB interface

1 USB 2.0 (support U disk/mouse)

Ignition input

1 ACC signal

UART

1 LVTTL Level

LED Indication

PWR/RUN

Disk lock

1

Debug port

1

Function extention

GPS/BD

Support detecting antenna Plug in/Unplug/Short circuit

3G/4G

Supports CDMA/EVDO/GPRS/WCDMA/FDD LTE/TDD LTE

WIFI

802.11b/g/n, 2.4GHz

Others

Power input

8~36V DC

Power output

5V 300mA

Power consumption

Standby 3mA

Maximum consumption 30W  @12V 2.5A @24V 1.25A

Working temperature

-20 --- 70℃

Storage

1080N  1.2G/h/channel

720P   1G/h/channel

960H   750M/h/channel

Dimension

162mm*180mm*50.5mm
---
Next:
Single SD Card MDVR 3G 4G GPS Wifi Function Maximum Support 256G 4 Channel 720P Vehicle Mobile DVR
---